Jukebox Partyband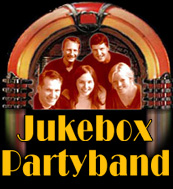 Livemusik – som I helst vil ha' den!
Konservatorie-, universitetsuddannede og rutinerede musikere spiller jeres ønskemusik til festen. Jukebox Partyband har specialiseret sig i at levere den vare, I har betalt for, og mere til.
Bandet har et meget bredt repertoire der dækker alle genrer lige fra dansktop over jazz, rock'n'roll, soul, disco, 80'er pop til nyere hits. Vil I gerne høre jeres yndlingssange når der spilles til dans, kan Jukebox Partyband bestilles til at spille lige hvad du ønsker.
Skriv en ønskeliste på op til 5 numre, du gerne vil høre, og bandet spiller dem til festen.
Jukebox Partyband sammensætter aftenen præcis, som I vil have den. Der kan spilles dinérmusik af enten pianist eller kvartet.
Til dansen udvides bandet til fem mand, med en showvant sangerinde.

Temafester
Hvis det ønskes, kan Jukebox Partyband levere musikken til jeres temafest, som f.eks. 
Grand Prix Fest – med guld og glimmer
Filmtema – kom som din favorit filmstjerne
Disco Night – med plateausko og discokugle
Countryfest – med rodeotyr
Greaseaften – 50'er flair og Rock'n'Roll
Det er kun fantasien, der sætter grænser. Disc Jockey kan også kobles til pakken.
Fremtoning
Bandet møder selvfølgelig velsoignerede op, og i en passende påklædning. F.eks. smoking, hvis det ønskes. Der kan forekomme skøre indslag og glimmerdiscotøj!
Speciale
Firmafest, julefrokost, sommerfest, jubilæum og bryllup.

P.S.
Vi tilpasser naturligvis lydniveauet så der kan snakkes og danses. Det bliver ikke højere end du vil have det.
UDPLUK REPERTOIRELISTE
Disco
I Will Survive (Gloria Gaynor)
Celebration (Kool and the Gang)
Hot Stuff (Donna Summer)
Upside Down (Diana Ross)
Can't Take My Eyes Off Of You (Gloria Gaynor)
You To Me Are Everything (The Real Thing)
Ghostbusters (Ray Parker Jr.)
Dancing Queen (ABBA)
Le Freak (Chic)
Pop
When I Kissed The Teacher (ABBA)
Not That Kind (Anastacia)
Take On Me (A-ha)
Uptown Girl (Billy Joel)
When Tomorrow Comes (Eurythmics)
Torn (Natalie Imbruglia)
Every Breath You Take (Police)
Holiday (Madonna)
Soul/Funk
Midnight Hour (The Commitments)
Soul Man (Sam and Dave)
Mustang Sally (The Commitments)
Dream On (James Sampson)
Dock Of The Bay (Otis Redding)
Respect (Aretha Franklin)
Long Train Running (Doobie Brothers)
Don't Change Horses (Tower of Power)
Sweet Home Chicago (Blues Brothers)
Ballader
How Deep Is Your Love (Bee Gees)
Something Stupid (Frank & Nancy Sinatra)
Du Er (News)
Cherish (Kool and the Gang)
Love Is All Around (Wet Wet Wet)
Everything I Do (Bryan Adams)
Jeg Ved Det Godt (Rugsted/Kreutzfeld)
Sådan Nogen Som Os (Poul Krebs)
Close To You (The Carpenters)
Fallen (Lauren Wood)
Country
Something to Talk About (Bonnie Raitt)
Sweet Home Alabama (Lynyrd Skynyrd)
Hello Mary Lou (Rick Nelson)
Stand By Your Man (Tammy Wynette)
9 to 5 (Dolly Parton)
Islands In The Stream (Kenny Rogers & Dolly Parton)
When You Walk In the Room (Sanne Salomonsen)
Lay Down Sally (Eric Clapton)
Jolene (Dolly Parton)
Help Me Make It Through the Night (Kris Kristofferson)
Dansk 80'er Pop
Vågner I Natten (Dodo and the Dodos)
Den Jeg Elsker (Helmig+Fenger)
Elsk Mig I Nat (Rocazino)
Dig Og Mig (Dieter's Lieder)
Sømand Af Verden (Dodo and the Dodos)
Bag Duggede Ruder (tv-2)
Jeg Vil La' Lyset Brænde (Ray-Dee-Ohh)
Hvor Skal Vi Sove I Nat (Laban)
Kom Tilbage Nu (Danseorkestret)
Rock
Summer of '69 (Bryan Adams)
You Really Got Me (Van Halen)
Always On The Run (Mama Said) (Lenny Kravitz)
When You?re Gone (Mel C + Bryan Adams)
Power Of Love (Huey Lewis)
Money For Nothing (Dire Straits)
Smoke On The Water (Deep Purple)
The Final Countdown (Europe)
Melodi Grand Prix
Waterloo (ABBA)
Danse I Måneskin (Trine Dyrholm)
Smuk Som Et Stjerneskud (Brdr. Olsen)
Der Står Et Billede Af Dig På Mit Bord (Rollo & King)
Dansevise (Grethe og Jørgen Ingemann)
Disco Tango (Tommy Seebach)
Boom Boom (Mabel)
Gi'r Du Et Knus (Snapshot)
En Lille Melodi (Anne Cathrine Herdorff)
60'er
Surfin' USA (Beach Boys)
I Saw Her Standing There (The Beatles)
Let's Twist Again (Chubby Checker)
Johnny B. Goode (Chuck Berry)
Bad Moon Rising (Creedence Clearwater Rivival)
Will You Still Love Me Tomorrow (The Shirelles)
I Get Around (Beach Boys)
You Can't Hurry Love (The Supremes)
Back In The USSR (The Beatles)
I Only Want To Be With You (Dusty Springfield)
Filmhits
Fame (Fame)
Staying Alive (Saturday Night Fever)
I've Had The Time of My Life (Dirty Dancing)
What A Feeling (Flashdance)
You Can Leave Your Hat On (9 ½ Uge)
Loco In Acapulco (The Four Tops)
You're the One That I Want (Grease)
What's Love Got To With It (What's Love Got To With It)
Grease (Grease)
Time After Time (Strictly Ballroom)
Dansktop
Kald Det Kærlighed (Lars Lilholt)
Så Længe Jeg Lever (John Mogensen)
Tag Med Ud Å Fisk (Gitte Hænning)
Rør Ved Mig (Lecia og Lucienne)
To Mennesker På En Strand (John Mogensen)

 

Latin
Copacabana (Barry Manilow)

Regndans (Danseorkestret)
Smooth Operator (Sade)
La Isla Bonita (Madonna)
Smooth (Santana)

 

Swing
My Baby Just Cares For Me (Nina Simone)
Fly Me To the Moon (Frank Sinatra)
Take The A-Train (Duke Ellington)
Ain't Misbehavin' (Fats Waller)
Be My Life's Companion (Mills Brothers)

 

Feststandards
Brudevalsen
Limbo Rock
Boogie Woogie
Hip Hurra Det' Min Fødselsdag
Skuld gammel venskab rejn forgo…
…og naturligvis alle de andre!